After a long break, Siku resumes its daily coverage of the top stories around the circumpolar world.
Siku is taking its annual break, which, due to unforeseen technical problems, will last until Feb. 12, 2007, so we invite you to continue enjoying our year-end review and catch up on stories in our archives that you missed. We'll see you again soon with daily updates on circumpolar news.
Listening to our past
The Association des Francophones du Nunavut puts out a new website on Inuit history and culture.
The website is available in French,
English, and Inuktitut.
Listening to our Past offers online access to twelve Inuit Traditional
Knowledge books published by the Language and Culture Program of Nunavut
Arctic College.
United Kingdom
Attendees will experience the power of Customer Experience Management and how, as a key component of OpenText's Enterprise Information Management (EIM) strategy, it helps to link departments across enterprise organizations to harmonize brands and communications across all customer channels from web and social through to customer call centres and finance. Hosted by OpenText Chief Marketing Officer Kevin Cochrane, Ignite the Experience will include special guest speakers, social media gurus and industry luminaries from today's leading digital agencies. OpenText customers from a variety of industries will also be on hand to share their experiences and best practices in leveraging CEM solutions to expand their brand. "To engage audiences effectively, today's strategic marketers understand the importance of delivering compelling experiences that are relevant, current and consistent across multiple channels, especially with the high demands in mobile experience, social engagement, and video-based communication. OpenText's CEM suite delivers an enterprise solution that helps users create and manage compelling content across all organizational, customer-centric touch points," said Cochrane. "I am very excited about our London event and look forward to engaging with the key customers, partners and thought leaders in Europe, which represents a key market for OpenText CEM." OpenText has built a strong reputation for delivering best-in-class solutions that many of the world's largest global organizations have leveraged for maximizing the effectiveness of their digital interactions with customers, setting their businesses apart from competition, and inspiring loyalty in their brand. The latest innovations being unveiled by OpenText at the Ignite the Experience event will include: OpenText Tempo Social 8.3, an out-of-the-box social collaboration solution with enterprise-grade security, compliance and customization capabilities that allows you to put social in the flow of work, unlike many of the consumer and competitive technologies that simply offer social as yet another siloed destination. The latest version of Tempo Social helps users to blog directly from Microsoft Word, upload photos from a new personal photo library, and view their social applications on mobile devices. Extended visual features also help to make social interaction with friends, colleagues and other social connections much easier. (c) 2013 Euclid Infotech Pvt. Ltd. Provided by Syndigate.info an Albawaba.com company
Meat in the United Kingdom – New Report Available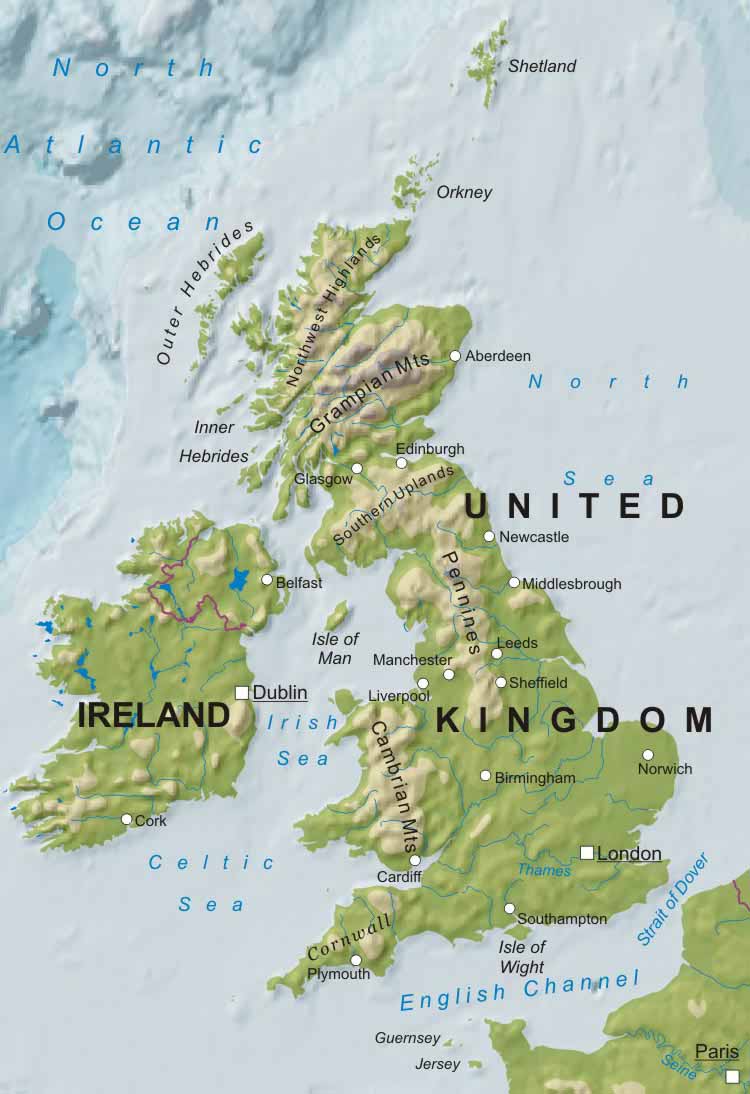 Northern Ireland is the only part of the UK with a land border, sharing it with the Republic of Ireland. Apart from this land border, the UK is surrounded by the Atlantic Ocean, the North Sea, the English Channel and the Irish Sea. Great Britain is linked to France by the Channel Tunnel. Angela Merkel: The Most Important Woman in Europe By IBTimes UK IBTimes assesses what Germans and the outside world can expect of Angela Merkel over the next four years. (Sep 24) Nairobi Westgate Mall Siege: 10 Nations Mourn Victims By IBTimes UK Kenyan officials say death toll from grenade-and-gunfire siege at the Westgate Mall in Nairobi has risen to 59, with at least 175 wounded. (Sep 23) By IBTimes UK Scotland's deputy first minister hits back after NIESR report warns independence means decade of austerity. (Sep 18) Kerry Heading to Israel to Discuss Deal on Syria Chemical Weapons By IBTimes UK Benjamin Netanyahu and John Kerry to discuss US-Russia agreement on eliminating Syrias chemical weapons arsenal. (Sep 15) New Zealanders, Australians Among World's Happiest People By IBTimes AU New Zealanders and Australians are among world's happiest people in the world. The United Nations World Happiness Report ranked New Zealand as 13th happiest country out of 156 nations while Australia ranked 10th place. (Sep 13) 2013 World 9-Ball Championship Live Streaming, Schedule and Results Germany vs. Philippines in Final By IBTimes AU It was a marathon pool session not for the faint of heart. The last 32 players of the 2013 World 9-Ball Championship began play 11 am on Thursday at the Al Arabi Sports Club in Doha, Qatar. Roughly 12 hours later, the final four was set. (Sep 13) Syrian Conflict: U.N. Chief Ban Ki-Moon Welcomes Diplomatic Developments on Syrias Chemical Weapons By IBTimes AU United Nations Secretary-General Ban Ki-Moon, on Wednesday, welcomed emergence of serious international discussions on securing and destroying Syrias chemical weapons.
Following the period of disqualification, he was stopped by Kent Police and told that his Irish driving licence was no longer valid in the UK. Shields was taken to Kent Court in the south east of England, fined 3690 pounds and was prosecuted for driving while disqualified and without insurance, even though he had a valid Irish driving licence (European driving licence). This incident took place, despite the ruling on April 26, 2012 by the European Court of Justice in Luxembourg that precludes the DVLA from refusing to recognise an Irish driving licence registered to an Irish national. The DVLA in the UK appears to be refusing to implement the ruling of the European Court of Justice from that day (Case no C419/10 Wolfgang Hoffman v. Bavaria). This incident is causing many people to wonder how many Irish drivers have actually been stopped and arrested for their failure to implement the European Directive. Based on the recent incident involving Shields, it appears to many drivers that their European driving licences seem to be recognised by every country in the world except for the DVLA. The ruling from last April states that the mutual recognition of a driving licence refusal by a member of state should be recognized in favour of a person whose driving licence was withdrawn on its territory. But the validity of the driving licence issued by another state and the finding of the European directive of 2006 on driving licences must be interpreted as precluding a member of state from refusaloutside any period of probation on applying for a new driving licence imposed on a holder of a driving licence issued by another member of state, when the condition of normal residency in the territory of the latter has been complied with. The DVLA appears to be breaking all of the European laws doing what they like; for example, arbitrarily throwing the book at scores of Irish drivers from the south, who have been forced to retake a driving test in England, Scotland Wales and Northern Ireland. This is completely unlawful following the ruling from the European courts. Also, when a non UK driver who holds a European licence is disqualified in the UK, it creates a second UK licence, which is illegal under European law. The DVLA will force the driver to take a driving test in the UK, although what they are doing is completely unlawful. These Irish drivers should be able to sue the DVLA in the UK for making European nationals retake their driving test in the after their period of disqualification has ended. About the DVLA: The DVLA maintains registers of drivers and vehicles in Great Britain.
The DVLA in the United Kingdom Refuses to Recognise an Irish Driving Licence
However, given the ongoing economic downturn it is a sign of fresh meat's continuing popularity among British consumers that the decline was not significant. Vegetarianism did not grow to any significant extent in 2012 and, while people may still be looking for the cheaper cuts of meat, meat itself remains popular, although it is too… Euromonitor International's Meat in United Kingdom report offers a comprehensive guide to the size and shape of the market at a national level. It provides the latest retail sales data in volume terms 2008-2012, allowing you to identify the sectors driving growth. It offers strategic analysis of key factors influencing the market – be they new product developments, consumption patterns and distribution data. Forecasts to 2017 illustrate how the market is set to change. Product coverage: Beef and Veal, Lamb, Mutton and Goat, Other Meat, Pork, Poultry. Data coverage: market sizes (historic and forecasts), company shares, brand shares and distribution data. Reasons to Get This Report – Get a detailed picture of the Meat market; – Pinpoint growth sectors and identify factors driving change; – Understand the competitive environment, the market's major players and leading brands; – Use five-year forecasts to assess how the market is predicted to develop. About Fast Market Research Fast Market Research is an online aggregator and distributor of market research and business information. Representing the world's top research publishers and analysts, we provide quick and easy access to the best competitive intelligence available. Our unbiased, expert staff will help you find the right research to fit your requirements and your budget. For more information about these or related research reports, please visit our website at http://www.fastmr.com or call us at 1.800.844.8156.
United Kingdom essential info
Tipping is standard practice when service has been good but its not mandatory if service has been poor. Its customary to round up taxi fares. United Kingdom tourism board: United Kingdom When to go to United Kingdom Summer (late June-September) brings the warmest weather and least rain though clouds can appear at any time. Through the summer holidays crowds at popular attractions are largest and accommodation booked out. Travel between late May and mid-July, or again in September and the crowds will have eased. Spring (March-May) brings flowers and showers, while autumn (late September-November) sees beautiful red and golden tree foliage and soft lighting. Winter is cold and usually damp; theres some skiing in Scotland but nothing to match Europe's ski resorts. International airports Heathrow Airport (LHR) is 24km west of central London. Gatwick Airport (LGW) is 48km south of central London. Edinburgh Airport (EDI) is 13km west of the city centre. Getting around in United Kingdom Domestic flights with various airlines link major cities. Most large cities have airports, many offering international flights to Europe and further afield. The UKs rail service is extensive, with regular trains run by numerous private operators serving most parts of the country; it is, though, expensive especially when booked on the day of travel.
United Kingdom Essential Info