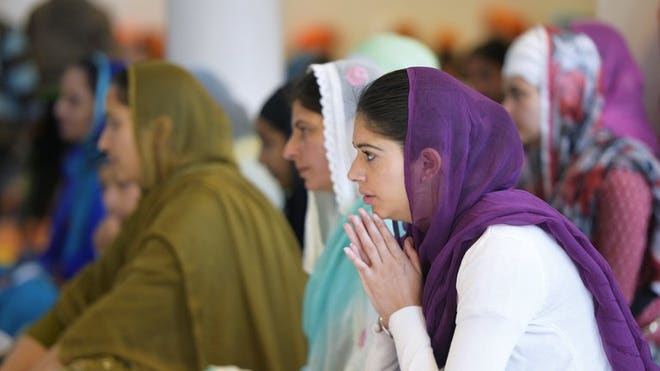 France's Education Minister Vincent Peillon has unveiled a new charter on secularity which must be displayed in government-funded schools explaining in child-friendly language why the Jewish skullcap and the Star of David, the Sikh turban, crucifixes and the Islamic veil are taboo. But the 30,000-strong Sikh community in France argue that they are the victims of ignorance. They see the recent official emphasis on secularism as being primarily the result of opposition to the Islamic veil and broader tensions with the largest Muslim community in Europe, and say they have been caught in the crossfire. "We are currently in talks with (Interior Minister) Manuel Valls to explain our unique situation and to be exempted from this law," said Kashmir Singh, a member of the management committee of the largest gurdwara or Sikh temple in France, located in the Paris suburb of Bobigny. "We have also met Manmohan Singh asking him to put pressure on France for justice to be done," he said, referring to the Indian prime minister who is also Sikh. Singh added: "Our children are dropping out from school or being expelled for keeping the faith. The cross, the veil and the kippa are not mandatory and are symbols. But the kesh (long hair) and the pagri (turban) are non-negotiable. They are not symbols but a sacred, inherent and intrinsic part of our religion." Ten students have been expelled since the law on secularity in schools came into force in 2004, according to official records. But the true number of children affected is much higher since many Sikhs have opted for private schools or home learning rather than give up the turban, said Ranjit Singh, a community spokesman who liaises with the government. "Also many Sikh families are ashamed of the fact that their children have been expelled and do not tell us so there are no complete records," Kashmir Singh added. Ranjit Singh was one of the first Sikh boys to be expelled from his lycee, or high school, after the 2004 law. That left deep scars but he has moved on since and is currently pursuing a doctorate at the prestigious Sorbonne university in Paris.
In France, Fracking Ban Faces Constitutional Test
The site standing out over the fields is operated by another American company, the Hess Corporation. In a statement to The World, Hess said its merely drilling a conventional exploration well. But Isabelle Levy doesnt buy it. This is a lie, Levy declares. If the law doesnt exist, this machine will be there in the right place, so they will frack. Hundreds have protested at the well site. Ban Is a Missed Opportunity But supporters say fracking would help Frances sluggish economy. Jean-Louis Shilansky, head of the French Union of Petroleum Industries, says the ban is a missed opportunity for the country. And at the end of the day we cannot afford missing it. Shilansky says the industry wants the freedom to experiment with fracking to find out just how much shale gas and oil France has. And hopefully the ban could be reversed, he says. Or at least thats what we want. But energy economist Thomas Porcher says the industry still has to contend with French public opinion, which largely shares his caution towards fracking. A recent Harris poll showed less than a third of respondents support drilling for shale gas.
Letter: France is not a model for Quebec on minority rights
Dozens of young men rioted in a troubled district in northern France after weeks of tensions, pulling drivers from their cars and stealing the vehicles, and burning a school and a youth center. Photograph by: Georges Charrieres , AP Re: a A Quebec model for tolerance a (Opinion, Sept. 20) In response to the opinion article by Robert Leckey and Robert Wintemute, I would like to add the following reasons why France is not a model for Quebec, with respect to preserving its majority culture and protecting minority rights. French Quebecers are not native to this province but took Quebec by force from Canadaas First Nations. In turn, the British took Quebec by force and then granted independence to Canada through political negotiation. In this respect, the majority of Quebecers are immigrants, French, English and others. By contrast, the French have lived in France since recorded history and can insist that immigrants abide by their majority culture. Certainly, the QuAbAcois are one of Canadaas founding nations and a distinct society, and this is reflected in Canadian law and practice. However, Quebec is not a sovereign nation, but a province in Canada and is still bound by Canadian law and norms. France is a sovereign nation and can pursue its national policy without negotiation with other governments. Anglophones and allophones, especially in Montreal, have contributed significantly to Quebecas economic development and should have corresponding input to Quebec society. By contrast, France was primarily developed by its native people. France is not a paragon of virtue in dealing with minorities and has experienced a number of race riots.